PhysicianView is a community that connects pharmas with HCPs, to their mutual benefit. Pharmas can microtarget HCP segments to share the most relevant content or gather direct feedback, while HCPs can manage their meeting logistics, access the latest content in their specialty, chat with their peers or follow up with KOLs.
Available now on iOS or Android mobile.
Handle Meeting Logistics
Maintain all your speaker bureau meetings in one calendar, receive notifications and directions for upcoming meetings, automatically check-in and complete e-signature capture on site.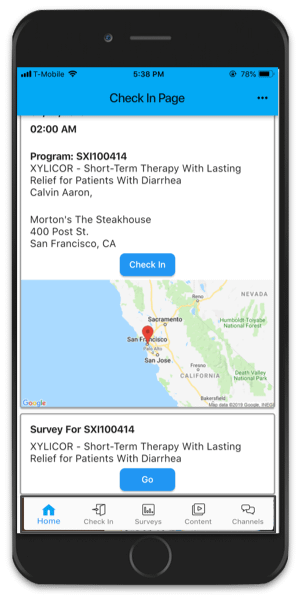 Chat with KOLs and other Attendees
HCPs can ask follow up questions to the speaker after a meeting, or reach out to peers in their specialty area in one-to-one or group conversation.
Microtarget Content
Pharma companies can select specific groups of HCPs then share presentations, videos and other information before, during and after speaker meetings.  That way HCPs have an easily accessible source for the latest information on drugs and treatments in their specialty areas
Provide Feedback to Pharma
Post-meeting surveys are automatically provided to HCP attendees, ensuring a high completion rate with fresh responses.  HCPs also have regular opportunities to participate in wider feedback surveys, and receive response summaries.