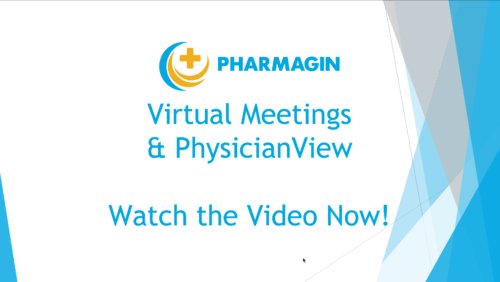 In a recent Pharmagin blog post, we discussed how to Keep your HCP relationships going with Pharmagin Virtual Meetings & PhysicianView. Virtual Meetings provide a great solution to the unique challenges of 2020.
However, the opportunity presented by Virtual Meetings is much more than just a short-term fix. As the industry shifts towards virtual meetings, pharma brand leaders have the capability to go beyond traditional regional market and target HCPs based on their behavior and needs. They can tailor content accordingly, serve large or small groups efficiently, and quickly make improvements to program content based on measurable campaign effectiveness.
We've heard from many of our pharma and agency partners that they are experimenting with virtual meetings, so we've created this Video to further highlight how Pharmagin's integration makes virtual meetings easy to execute. Contact us now to discuss the new opportunities your team could unlock with Virtual Meetings.