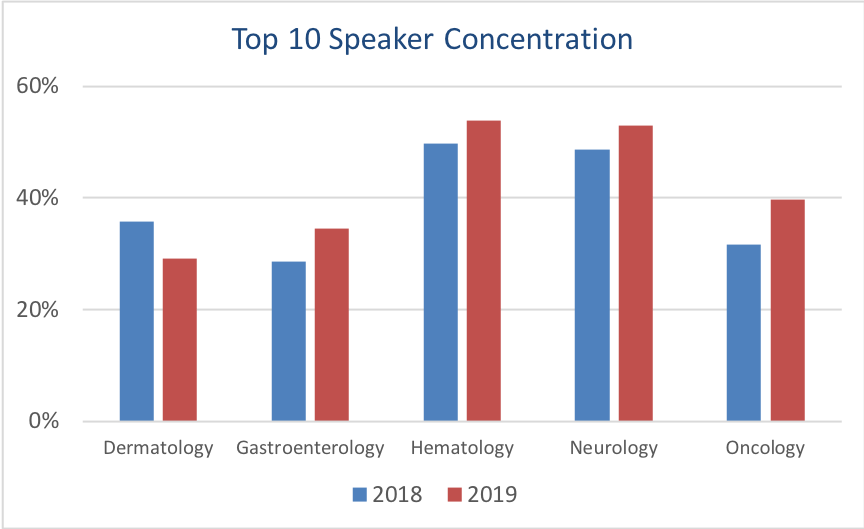 In our first Pharmagin Data Insights, we looked at meeting attendance over recent years, by therapeutic area, and based on invitation lead time. You can read it here.
Now in the second of our series , we'll review Speaker Selection and Utilization. It's a critical area to analyze and continually improve, to optimize ROI for your speaker program campaigns.
Our first chart shows the average number of years' experience speakers have across five therapeutic areas. Speaker experience is defined as the difference between each speaker's NPI enumeration date and the analysis date.
As we can see across all meeting, the average speaker experience is 13.2 years, with a fairly tight range across therapeutic areas. This is fairly high, showing that unsurprisingly experience brings credibility among HCP peers. When recruiting KOL speakers, consider using at least 10 years of experience as an initial filter.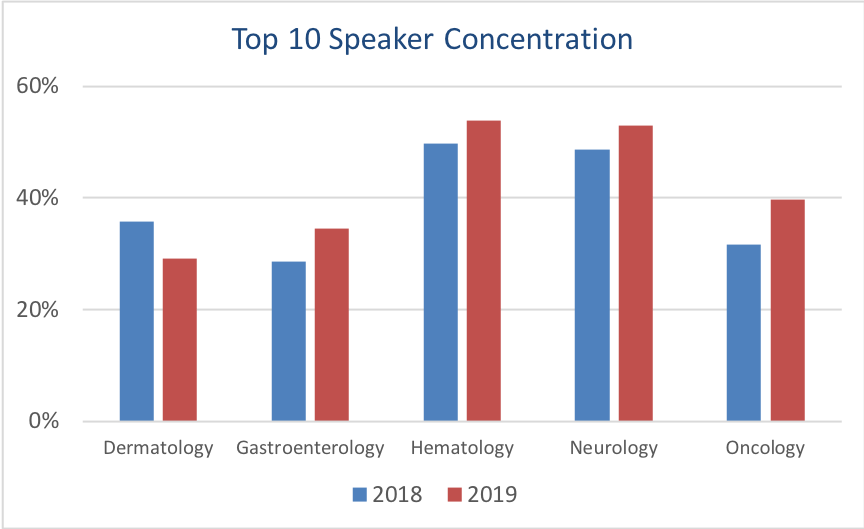 The next chart shows the percentage of total programs that the top 10 speakers (as defined by num of meetings) comprise. This is an indication of 'concentration', how focused the field is in a small number of key speakers.
Hematology and Neurology have the highest Top 10 concentration at 54% and 53%, indicating that the top speakers are in high demand. When planning, one should consider booking these speakers before they hit honoraria caps – particularly if you operate in one of these more concentrated therapeutic areas.
Finally we look at the average number of topics that each speaker is trained to speak on, across five therapeutic areas.
Across the therapeutic areas, the average is 4.4 topics, with Dermatology the lowest at 3.0 topics and Hematology the highest at 5.3 topics. During speaker recruitment, consider limiting speaker training to three to five topics, to maximize speaker efficacy and clarity of their expertise.
Look out for more Pharmagin Data Insights in upcoming, white papers and case studies