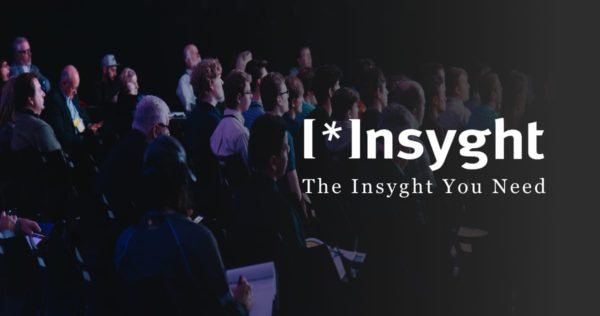 Insyght and Pharmagin Announce Partnership to Deliver Smarter Speaker Programs 
May 6, 2021 — Insyght Interactive Inc. (Los Angeles, CA) and Pharmagin Inc. (Las Vegas, NV) announced this morning that they have formed a partnership to deliver a unique combination of strategic medical communications and engagement expertise with market-leading meeting management, HCP education, and compliance technology. The first client they will jointly serve is a pharmaceutical company located in California. 
Insyght's CEO, Rina Yasuda, commented on the complementary nature of the services both firms provide. "As we explored various platforms to find our ideal technology partner, it quickly became apparent that Pharmagin would be the perfect fit. They offer customizable, scalable, and adaptable tools that support both large- and small-scale projects, which is absolutely critical in our ever-evolving industry. As our client-base grows and demands for the most effective digital tools to help disseminate the resources and tactics we help our clients create expands, we are confident that Pharmagin will help us remain a leader in our industry. We are genuinely thrilled to formalize this partnership and see great potential for mutual growth and success." 
Pharmagin's CEO, Sam Wu, agreed and emphasized the state of the industry as further support for the natural partnership. "The pharmaceutical industry currently finds itself at a remarkable turning point where technology has become an absolutely essential part of healthcare provider engagement. By partnering with Insyght, not only can we continue to deliver on our commitment to cutting-edge technology, but we can be confident that Insyght is driving clients to create the most effective messaging campaigns and resources that we can disseminate throughout our digital avenues, enhancing the utility of both of our service offerings for all clients worldwide." 
Both Rina Yasuda and Sam Wu's firms have had to adapt rapidly given the impact COVID-19 has had on the pharmaceutical industry as a whole. As restrictions set in, they both saw an increased demand for online and digital tools, but an ever more compelling need for remote engagement where the right messaging, delivery, and follow-through could seamlessly occur. The challenge was designing and implementing solutions without compromising quality, increasing costs, or creating regulatory or compliance vulnerabilities. Thus, the Insyght-Pharmagin Partnership was established, with Insyght providing full-service strategic communication services, backed by deep therapeutic area expertise and a long-standing history of success in meeting management, HCP engagement, and digital solutions, and Pharmagin providing advanced cloud-based technology that enables companies to efficiently plan logistics, successfully monitor engagement, and ensure compliant execution. In combination, Insyght and Pharmagin offer clients a unique "one stop shop" solution with the deepest medical communications expertise and most capable, robust technology inherently intertwined. Both CEOs encourage current and future clients to inquire as to how this new partnership can be of benefit in their specific work. 
About Insyght Interactive, Inc. 
Insyght Interactive is a leading strategic services provider specializing in medical communications and education, industry meetings and events, thought leader engagement, and digital solutions for the pharmaceutical and biotechnology industries. Over the past 25 years, Insyght has worked in over 20 therapeutic areas and has helped launch some of the most successful drugs, including Eliquis®, Lynparza®, Farxiga®, Lipitor®, Chantix®, and Viagra®. Insyght has established a strong, global footprint and has also cultivated influential partnerships with several professional organizations and government entities. In addition to being a certified woman- and minority-owned small business, Insyght has been recognized in prominent business association listings, including Omni500, Top 100 Asian-Owned US Businesses, Inc. 500, and Fast 50, and is a member of the Diversity Alliance for Science. For inquiries, please contact Katja Tutor, Director of Global Programs, at 310.247.3840 or info@insyght.com. 
Pharmagin is the leader in speaker program automation. Pharmagin has created a customizable web-based platform solution to reliably manage the compliance and logistics of speaker programs for medical communication agencies and life sciences companies. The Pharmagin platform takes an innovative, data-centric approach to solve the challenges facing speaker program planners at the agency and pharmaceutical company levels. The Pharmagin team has over a decade of experience in SaaS technologies and clients rely on Pharmagin to be innovative, agile, and responsive. As a result, Pharmagin has successfully helped manage over 20 product launches for major life sciences clients and their medical communication agencies. For inquiries, please contact Darren Montgomery, Vice President of Marketing, at 888.515.6686 or info@pharmagin.com.