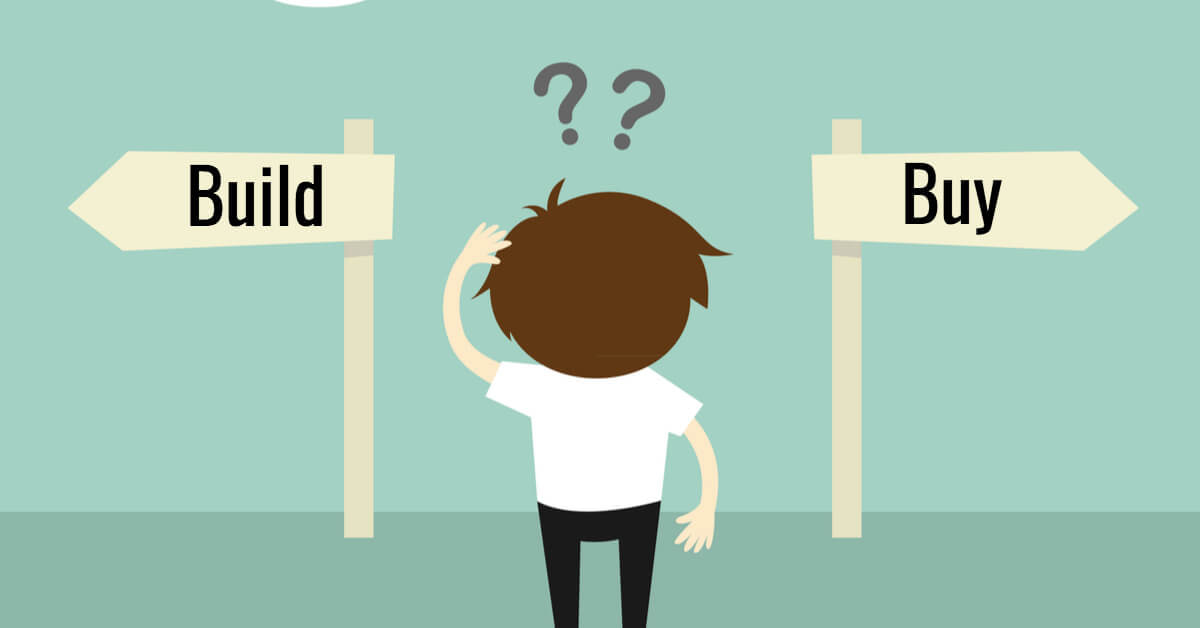 In our most recent blog post, we discussed Logistics & Reporting: How to Nail Speaker Bureau Basics.  But in order to do those things successfully, you need a comprehensive, capable technology platform. Which brings us to another subject we hear often from our clients – should we build vs buy speaker program technology?
Build vs Buy Speaker Program Technology – a common theme
Here at Pharmagin, we deal with medical communication agencies of various different sizes and types. From large internationals that cover a wide range of services and may even cover industries outside of healthcare, to small homegrown businesses that take great pride in their established client relationships built over much time and maintained with care. One theme that we hear time and time again is the discussion of whether the agency should build its own technology platform to manage speaker program campaigns. In the past this may not have been an important question, as the data and recording requirements around programs were relatively light. However, in the light of the Sunshine Act and myriad other regulations, our pharma clients have much stricter needs for how budgets, campaigns and compliance reporting are handled. So having a reliable, comprehensive technology platform is an increasingly important agency requirement.
Building/Maintaining Your Own Custom Solution
Many agencies have some sort of in-house solution, perhaps developed over many years of gradual iteration and improvement. Others have been using 3rd party solutions, which may have been sufficient in the past but typically aren't deeply tailored to healthcare or speaker program needs.  Either way, the agency leaders face a critical decision whether to build or buy the truly capable platform that they need.  If you find yourself in this situation, we'd challenge you to consider whether technology development is really the business you want to be in. Why not leave it to the experts?
Disadvantages to Building A Speaker Program Tech Solution In-House
There are a number of considerations that might dissuade you from developing in-house:
Integration with typical CRM and other common client tech: Is your team experienced with the sorts of tech your clients use for CRM, expense management, budgeting etc? Any modern agency platform must seamlessly integrate with these, which means your team must be well-versed in the industry APIs
Team Expertise: do you really have technology developers in-house? The idea of offshore development may be attractive, but even that requires the right internal team to manage that relationship and the development process
Opportunity Cost: If you reallocate your agency's time and resources to build (or extend) a new platform, how will that affect your client contracts? Do you have the manpower to spare? Will employees work on development during overtime hours?
The 'Technology Stack': designing and developing a system for your team to manage speaker programs is just one piece of the puzzle. In reality they'll need to build an intricate jigsaw of connected technologies for back end code management, cloud data storage and transmission, data security and compliance, client reporting and other elements.
Best Practices: No doubt you have expertise at delivering what your pharma customer wants, but does your team have a solid understanding of industry best practices, from a data management and technology point of view? Do they have the necessary knowledge to design a usable, practical reporting solution that will reflect the proper metrics?
A Better Way to Handle Speaker Program Technology
If, like many of our clients, you find yourself considering whether to build vs buy speaker program technology, and think it may be better to let technology experts deal with technology so your team can focus on what you're good at – then we'd love to hear from you. Contact us today to find out how we can help you back up your premium services with the industry-leading technology our pharma customers demand.